ON TIME Sprint – customised express transport
Do you have an urgent shipment to send? Then you can count on ON TIME's sprinter service. Within the sprint network you send a mail item, pallet or other goods both in Belgium and abroad. Your urgent shipments will be picked up exclusively for you by a personal driver at point A and delivered at point B, without intermediate stops or storage depot. Multiple delivery addresses are possible and all this 24/7.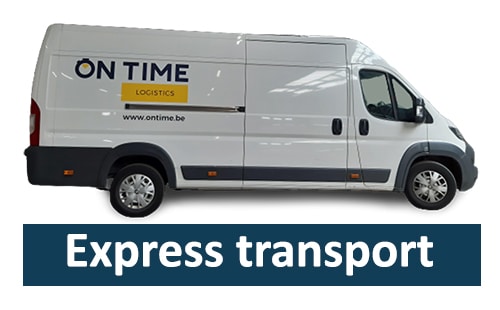 ON TIME couriers and our car fleet
Our drivers are well trained and have modern tools at their disposal to carry out your shipment in the best possible quality. Our many years of experience and customer satisfaction have proven that you can consider us a reliable service provider.
We have an extensive range of vehicles (from Small to a semi-trailer) that can transport up to 24 tonnes. You follow your shipment closely on the basis of track & trace 24/7. After each delivery, you will also automatically receive an e-mail with pick-up and delivery times, names and signature.
Recently we also offer refrigerated transport between -18°C and +6°C. We transport your temperature-sensitive products in a refrigerated truck with a maximum capacity of 499 kg (or 1 euro pallet).
How is your express transport operated?
You call in/or book your order directly on our online customer portal (ON TIME Online).
Your shipment will be picked up within an hour (if the pick-up address is Antwerp, Brussels or Kortrijk). For other distances we require a little more driving time.
From the moment of collection you can follow your parcel on the map.
After successful delivery you will automatically receive an email with the progress of the collection and delivery + signatures.
We will send you a clear invoice once a month.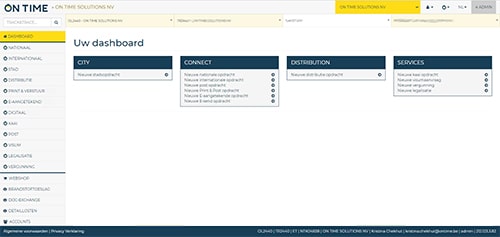 What about the price?
At most courier companies you pay per kilometre for both outward and return journeys from the starting point. If your company happens to be a long way from the starting point, such an express transport can be expensive for you. But what do you say to 12 starting points spread all over Belgium (Kallo, Antwerp, Sint-Niklaas, Dendermonde, Mechelen, Lier, Herentals, Turnhout, Brussels, Kortrijk, Temse and Rotselaar)? Thanks to the strategic position of these 12 starting places, ON TIME can pick up and deliver your goods even faster. What does this mean for you? You will save time and costs, because the closer you are to the starting point, the fewer kilometres will be charged.
What makes ON TIME Sprint so different?
Personal approach, open communication, search for solutions, know-how, our starting points, couriers, vehicles, service & quality and the strong digitalisation of internal and external communication. Our total package of services makes us the one logistics partner you are looking for. Not quite convinced yet? Well, here are some figures and testimonials from our customers.
60% of our customers are very satisfied with our Dispatch team and providing solutions
99.5% are satisfied and very satisfied and would recommend us to friends and acquaintances.
44% think that ON TIME couriers perform better than other couriers in the sector